Info:
Painkiller: Black Edition (PC/ENG) English l PC l ISO l
Size 3.75 GB
Genre: Shooter / Fps / Horror
Developer / Publisher: People Can Fly / JoWooD
Game Modes: single-player, multi-player
Painkiller
is a
first-person horror shooter,
designed to satisfy a gamer's hunger for intense, fast-paced action. It's an adrenaline addict's
nightmare
, where hellish monsters swarm in seemingly endless mobs. Graphically, Painkiller is unmatched. The proprietary PAIN Engine puts out an unbelievably high polygon count, while adding increased texture quality and the latest
lighting
and shadowing techniques, including soft shadows, DOT3 bump mapping, water reflections, glass simulation, volumetric
light
and fog, and more. Plug in the
Havok 2.0 physics engine
, and you get a realistic environment in a totally fantastical setting. What's cool about it: # Black Edition includes Painkiller and expansion pack Battle out of Hell #
Adrenaline-packed combat
with
14 incredible weapons,
including the famous gun that "shoots shurikens with lightning" # Addictive gameplay, a furious soundtrack and impressive
physics
Overview: Trapped in a dark and unwelcoming world, awaiting
purification
for your earthly sins, you must fight through an endless number of enemy warriors, as you attempt to stop the imminent Unholy War and overthrow Lucifer. But even if you
win
this insane battle, you must still take out hordes of howling devils, eager to avenge their master.
Screenshots: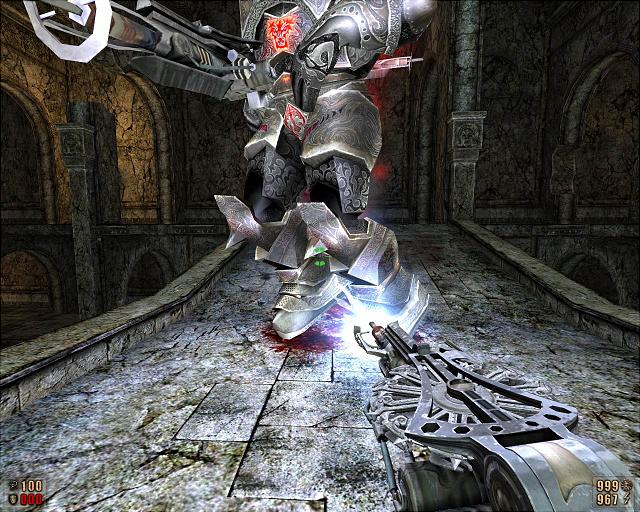 System requirements:
# Windows XP or Windows Vista
# 1.5 GHz Processor (2.4 GHz recommended)
# 512MB RAM (1 GB recommended)
# 64 MB DirectX 8.1-compatible graphics card with hardware T&L support (128MB DirectX 9 recommended)
# DirectX 8.1-compatible sound card # 1.2 GB HDD (5GB recommended)
# Mouse, Keyboard.